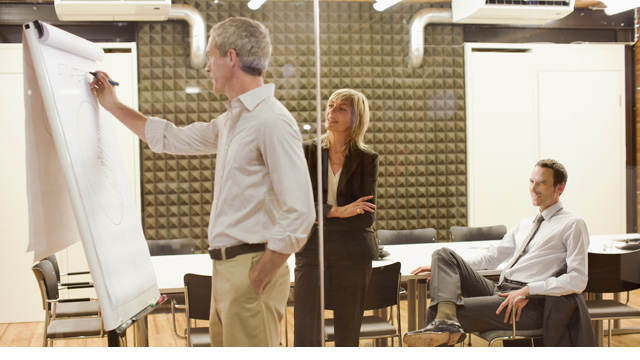 Becoming an Active Leader – The Key to Success
In 2009, our parent company—Deutsche Post DHL Group—introduced a strategy with three core objectives: to be the provider of choice for our customers, an attractive investment for shareholders, and the employer of choice for our employees. These goals are all closely related; satisfied employees lead to satisfied customers, on whom the economic success of the company rests.
The very core of a company's success comes from happy and engaged employees. When you have people who enjoy their work environment, feel appreciated and heard, and are motivated by the tasks at hand, they will be encouraged to put in extra effort. Leaders set the tone for the entire organization and are critical to employee engagement. People being led by effective leaders will want to contribute to the overall success of the organization!
To effectively manage and motivate your team, start by developing these four basic leadership skills:
Explain what is expected of each employee and hold them accountable. By setting clear expectations, you lay the foundation for holding your people responsible for their tasks, and they will feel like you are setting them up for success.

Provide regular feedback. The key to giving effective feedback is to focus the conversation on the observable behavior, and not on your interpretation of the behavior. Describe the impact of that behavior on work results and agree on new actions or a change in behavior. Effective feedback will facilitate their learning and motivate action.

Champion the development of your employees. Take an interest in the needs of your people and their aspirations. In doing so, you will create connections with your employees—which is the groundwork for great teamwork and performance!

Value and appreciate your employees, individually and as a team. Often we forget to acknowledge and celebrate successes, focusing instead on what is not working. Start looking for the things that your people are doing right—and acknowledge them. This sends a message about what you value and will boost performance. In work teams where people say they have been praised recently, productivity, morale and measures of engagement are likely to be higher and people are more likely to stay with the organization.
Developing your active leadership skills requires focus and the willingness to change. Pick one area for improvement and focus on developing that skill for a couple of weeks. Be open with your people, share the area you are working on and check in with them for feedback—ask them "How am I doing?" Part of being a leader is two-way communication. While it's important for you to give feedback, receiving it is also important.
An organization that focuses on growing the skills of its leaders will enhance the overall morale of the entire work force, yielding long-term success for everyone.
Book Recommendations: